"The intention of music is not only to please the ear, but to express sentiments, strike the imagination, affect the mind, and command the passions." –Francesco Geminiani
Studying a musical instrument is one of the best things children or adults can do in their lives. Research has long correlated music education with improved academic, social, and personal skills. Musicians often perform better in math, science and language. Physical dexterity is enhanced tremendously by playing an instrument, and playing as part of an orchestra promotes unique communication skills and teamwork. Music is an integral part of any well-rounded education, but more importantly it is a lot of fun and highly rewarding. It is never too late to learn, and now is a great time to begin.
Chamber Music Workshops
Regularly performing in small, chamber music ensembles is important experience for any well-rounded musician, but it is not an opportunity normally available in public schools. To help address this need, and to provide another fun opportunity for my students to enhance their musical studies, I offer a series of chamber music workshops.
The Benefits of Performing Chamber Music
Chamber ensembles rarely perform with a conductor which means that the musicians themselves have to take responsibility to lead and rehearse. Performing chamber music promotes enhanced skills in communication, collaboration, and teamwork. During rehearsals, everybody has an equal say in a piece's musical interpretation, and during performance, everyone stands out as an important member of the ensemble. Without a conductor to lead, students have to be attentive to each other's visual cues. The smallest of eye movements can start a piece, leaning forward in the chair can cue everyone to play with more intensity, and breathing as a group keeps everyone in tempo. These advanced musical skills and techniques are difficult to learn in a school orchestra environment but fun to practice and critical to becoming a strong musician.
Workshop Format and Pricing
Chamber music workshops take place every few months throughout the year, with each including a 2-3 hour rehearsal on Saturday and a culminating concert on Sunday. Students are placed in ensembles of 3-4 musicians of similar skill, given a selection of music in advance, and coached as a group on the skills and techniques unique to chamber music. The fee for the workshop is just $75, including the rehearsal, performance, and music.
To sign up for a workshop, please contact me at nadiasviolino@gmail.com or (949) 680-9731.
My Teaching Philosophy
When choosing a violin teacher it is important to find one with experience, passion, and patience. Teaching violin is something I truly enjoy doing and In my years of experience I've guided hundreds of students through the joys of music making. I emphasize musicality and musicianship skills in addition to technique. I teach my students how to think independently and interpret pieces on their own, not just how to memorize and copy. Above all, I instill a love for music making in my students in the hopes that it sparks a lifelong pursuit.
I typically teach out of the dedicated music studio in my home in Sugar Land. I encourage parents to stay and observe lessons so they can in turn provide support and encouragement at home when the student practices. Each lesson begins with technical exercises such as scales and etudes. These exercises serve both as a warm up and as an introduction to new techniques, positions, fingerings, and skills the students will need to successfully play increasingly demanding music. After the warm up I use a combination of school repertoire and carefully selected solo violin repertoire to coach students through their newly learned skills. Lessons conclude with a clarification of goals for the next lesson and suggested practicing techniques.
Lesson Pricing
Lessons in My Studio
One Hour Lesson $40
Thirty Minute Lesson $25
Monthly Tuition* $150
In-Home Lessons
One Hour Lesson $50
Thirty Minute Lesson $30
Monthly Tuition* $180
 *Monthly tuition is an optional method of pre-payment for 4 violin lessons that affords a slight discount. It is also possible to pay for each lesson separately.
Frequently Asked Questions
What is needed during lessons?
Students simply need to come to their lessons equipped with an instrument, a notebook, a pencil, and their assigned music.
How long are the lessons?
Lessons are typically one hour long. Thirty minute lessons are available but not recommended since they don't usually allow enough time to productively learn new skills.
Where can I buy/rent a violin?
When beginning violin lessons for the first time I often recommend that parents rent violins instead of purchase for a few reasons. Children can quickly outgrow smaller sized violins and rental companies are happy to exchange for more appropriate instruments. It also allows parents time to gauge their child's interest before investing in a full sized violin that will last them for years to come. For purchasing or renting a violin I recommend the Amati Violin Shop (Rice Village) or Lisle Violins in Katy.
Can you help my child prepare for an audition?
I have extensive experience preparing students for school auditions, regional auditions, and youth orchestra auditions. Good audition preparation ideally takes at least one month, but I can also help your child polish their skills in the last few weeks of audition preparation.
What is the best age to begin violin lessons?
Many musicians began playing their instruments when they were 4 or 5 years old, but it is never too late to learn. I began playing when I was 4, but my husband, also a professional musician, began playing music when he was 11. More important than age is a student's ability to concentrate and focus on learning new skills. I've taught students as young as 3 years old that were very successful in their lessons.
Do you have any additional questions? Feel free to contact me at nadiasviolino@gmail.com or (949) 680-9731 and I'll be happy to help.
About Me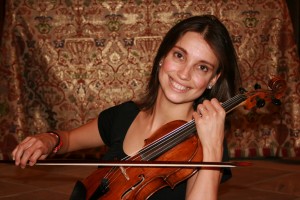 Bulgarian-born violinist Nadia Lesinska has garnered an exceptional career spanning continents and genres. As a specialist in baroque violin technique, Nadia performs throughout the country, and is a frequent guest with Ars Lyrica Houston, Bach Society Houston, Mercury Baroque, and Viols of Houston. She can be heard on five commercial recordings, including Handel's Op.6 Concerti Grossi, Vivaldi's L'Estro Armonico, and Rameau's Les Indes Galantes with Mercury Baroque, Colonna's Psalmi ad Vesperaswith the Houston Chamber Choir, and Ars Lyrica's GRAMMY-nominated recording of Hasse's Marc Antonio e Cleopatra. As a modern violinist, Nadia's credits include the Houston Grand Opera, Houston Ballet, Los Angeles Pops Orchestra, and San Juan Capistrano Symphony. An active recitalist and chamber musician, Nadia can be heard throughout the year in her own concert series and as a collaborator with many of Houston's top musicians. In addition to classical music, Nadia is also a frequent jazz violinist and fiddler. A graduate of Chapman University, Nadia's teachers included Paul Manaster and Todor Pelev. She received her period performance training from Oberlin's Baroque Performance Institute and from studies with Jann Cosart, Marc Destrube, Marilyn McDonald, and Cynthia Roberts. Nadia resides in Houston with her husband, viola da gamba player Jordan Witherspoon.
To view my professional website, please visit  www.nadialesinska.com.
Contact Me
Nadia Lesinska Witherspoon
nadiasviolino@gmail.com
(949) 680-9731
My home studio is conveniently located in Sugar Land in between Highway 6 and FM1464 near Austin High School. It is a 10 minute drive from Sugar Land Town Square and 15 minutes from Cinco Ranch.